With only 6 days left before the USA defaults on its national bills, the debt ceiling debate is pointlessly raging on in Washington DC, on talk (hate) radio, and everywhere else that people smart enough to at least watch the spectacle are gathered.  Actually, "debate" is the wrong word to describe this exercise in congress;  a more accurate description would be both sides ignoring each other, proceeding in their own separate ways to pass counter-plans which have no hope of passing both houses of congress or being signed into law.
Neither side is really blinking either (yet!), although the democrats have actually rubbed their eyes several times:
They acquiesced to GOP demands for deep spending cuts in social programs such as Medicare, Medicaid and Social Security;
They played along when the GOP refused to allow for the closing of tax loopholes which only benefit the very rich people and the mega-profitable corporations; and
They even agreed to an interim short-term raising of the debt ceiling if it was tied to mandatory longer-term raising of the ceiling before the next crisis.
Each time, the republicans said no…refusing to blink even a little.  They want what they want, which is whatever they want whenever they want it, as if they controlled both houses of congress and the presidency…like they did from 2002 through 2006, when they and their horribly misguided ex-president GW Bush got the USA into two unfunded wars, reduced taxes on the very rich (which reduced US revenue income), and passed a medicare prescription plan which primarily benefited the giant pharmaceutical companies that charge Americans between 50 and 80 per cent more for medicines than they charge any country.
Not one of those generous benefits to the big (and expensive) military contractors, very rich people and mega-corporations , and pharmaceutical conglomerates was paid for, either.  Instead, they all contributed to the rapidly rising national debt.
In fairness, the GOP did deregulate the banks so that they could provide artificially cheap mortgages to people who couldn't get credit for a cup of coffee the week before.  Suddenly these deadbeats qualified for a home loan.  And  if those folks ultimately defaulted on their mortgages (as the financial industry knew all along that they would), banks were protected by mortgage insuring institutions.
Because these people all of a sudden started buying homes in droves, the real estate market shot up HUGE.  But when those people defaulted on their mortgages in huge numbers, real estate values tanked, and the mortgage insurers were financially overwhelmed.  Banks and other financial institutions failed.  The situation snowballed into the great recession from December 2007 through late 2009.
Thus, one might say that the GOP's track record regarding money management, finances, economics and future national fiscal health is questionable at best..and perhaps even suicidal.  These folks took a national budget surplus inherited from then-president Bill Clinton, and turned it into a $10+ trillion national debt in only eight years.  In fact, as they were spending like drunken sailors looking for a good time away from home, their second-in-command, then-vice-president Richard "Tricky Dick" Cheney proclaimed that "deficits don't matter."
Whatever the republicans are trying to do, which seems primarily to shut down most government spending regardless of the damage it causes, probably isn't a good idea.  It seems, according to the latest polls, that a majority of the American people are slowly waking up to that fact.  Consider this chart: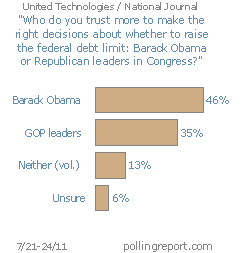 Perhaps most antithetical to the Tea Party-driven economic suicide the GOP seems hell-bent on pursuing is what the most liberal democracy in the world, Sweden, has done to successfully fix the ills of the recent USA-originated global recession.  Sweden provides true universal health care at half the cost per capita of the USA's dysfunctional for-profit private-insurer health care system, and its citizens live on average live fours year longer than Americans, even though Sweden endures brutally cold winter weather every year.  Yet it managed to achieve 5.5% economic growth while the US could only squeeze out 1.5%.  Sweden's unemployment is down to 7% as compared to the US rate of 9.2.  And by the way, their standard of living is higher than in the USA.  You can (and should) read more about it HERE.
In fact, so should the GOP, so they can see how horribly misguided (just like GW Bush) their agendas of economics and government really are.  But there's not much chance of that.  Like a stubborn and perhaps somewhat psychotic elephant, the Tea Party-dominated GOP is hell-bent upon falling on its sword, while holding EVERYONE'S hand.
And besides… it would be a cold day in hell before the GOP takes any advice from a maxi-liberal country like Sweden, where free love (aka casual sex) is practiced and the people are kept healthy and vital against their will by that freedom-devouring frozen-brained communistic socialism!
So THERE!!!
PS.  Oh yeah..Sweden produced that anti-GOP love-oriented band ABBA!!!  🙂  🙂